'Borovo is a little town…'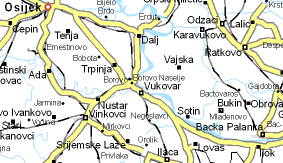 Borovo naselje is a suburb of Vukovar. It is located on the right bank of the river Danube in Vukovar-Srijem County at 45.3789 lattitude and 18.9554 longitude from Greenwich, 4 km northwest of Vukovar town centre, 15 kilometres northeast of Vinkovci and 32 kilometres southeast of Osijek on the State road D2 which connects Vukovar with Osijek and Ilok. Elevation is 90 metres and climate is continental with hot summers and cold winters. Economy is based on rubber and footwear industries. According to Census of 1961 Borovo naselje had 3,489 and 1991 about 10,000 inhabitants. Although majority of Borovans feels Borovo naselje is a little town, it is nevertheless a suburb of Vukovar...
In the thirties of the 20th Century, northwest of Vukovar, on the right bank of the river Danube, industrial settlement of Borovo was established. More accurately, on the 7th of June 1931, Czech industrialist Tomáš Bat'a (03.04.1876. Zlín, Moravia - 12.07.1932. Bat'ov, Moravia) established 'Bata Borovo' factory, modelled on his 'Bata' factories in Czhecia, and started first industrial production of shoes in Croatia (which at that time was a part of Kingdom of Yugoslavia), and for its workers started building a satellite industrial town Bata-ville. Plan of the settlement and projects of the buildings were work of a well-known Czech architects František Lydie Gahura, Vladimír Karfík and Antonin Vitek and in the year 1936 Bata-ville settlement had 122 buildings, made of red mortarless bricks, in which there were 421 units with 1,818 dwellers. In the same year a big Social Hall was built (later called Workers Hall) with ground floor restaurant, first floor workers restaurant, night bar, department store, library, cinema and a shoe store.
'Don't be affraid nor rain nor mud if you have Bata to wear.'
Around the factory, over the years, a settlement Borovo developed. At first there were a characteristic two-storey buildings (located in so-called colonies I, II, III, IV…), football stadium, sports aerodrome (the so-called 'Rio'), school, student dormitories, tennis fields and in later years a much bigger and diverse residential and accompanying buildings, cinema, hotel, olympic swimming pool and indoor sportsdome with the capacity of 3,000 spectators.
On his way to open a new branch-office in Switzerland Tomáš Bat'a died in an aircrash, together with his pilot, on 12th of July 1932, at 56 years of age. Airplane Junkers D1608 with Tomáš Bat'a and his pilot Jindřich Brouček (30.6.1893. - 12.7.1932.) crushed at take off, under thick fog, into chimney of one of the buildings of the town of Bat'ov (today's Bahňák, part of Otrokovice). After the death of Tomáš Bat'a, his son Tomáš Jan Bat'a (17.9.1914. Zlin, Moravia - 1.9.2008. Toronto, Canada), half-brother Jan Antonín Bat'a (7.3.1898. Uherské Hraditě, Moravia - 23.8.1965. Sao Paolo, Brasíl) and family Bat'a took over the firm 'Bata' and continued development of 'Bata Borovo' in the tradition of good organization, work and technological discipline of 'Bata', which in 1939 had 6,290 workers. After the Second World War factory was taken from Bat'a family ('nationalised') by the new communist authorities and 'Bata' name was dropped to stay only 'Borovo'. At the same time settlement was named Borovo, after the nearby village, and to distinguish between them they were called Borovo Selo (village) and Borovo Naselje (settlement).
Bata motto:
'Good and cheap shoes affordable to the poorest – and high salaries, for ones who deserved.'
From the small operation of 'Bata Borovo' established in in the year of 1931 a footwear and rubber complex 'Borovo' grew, a business system with 15 enterprises employing 22,500 workers, of which over 1,000 were highly educated with a number of master's and doctor's degrees among them who, in their own Institute, were the centre of development of new products and technologies. The 'Borovo' complex included activities from twenty different economic branches. In the year of 1990 'Borovo' produced 22 million pairs of shoes and had 620 shops in its possession at the territory of Yugoslavia. The factory was not in production from the year of 1991 to the year of 1997 because of Croatian War of Independence, when the town of Vukovar was under siege from JNA and various Serb paramilitary formations for three months and suffered great devastation and loss of lives, with factory alone sustaining a damage of 300 million Euros. During the aggression on Vukovar, about 60% of the buildings have been completely destroyed and more than 30% damaged. More than 90% of residential buildings were destroyed or damaged. From the year of 1992 to the year of 1997 Administration of Borovo Factory continued from Zagreb with production plant located in Donji Miholjac. Retail trade was limited to Croatia, Slovenia and one part of Bosnia and Herzegovina. After a seven year pause, in 1998, production in 'Borovo' factory is continued albeit with greatly diminished capacity. Today's 'Borovo' is a joint-stock company (99.99% owned by DUUDI and 0.01% by Borovo d.d.) employing 1,050 workers (of which 600 in Vukovar) with yearly production of 400,000 pairs of shoes and 1,500,000 metres of industrial belts.

Sources and further information:
Borovo.hr; dr. Kemal Hrelja, Martin Kaminski, "Borovo" - jugoslavenski kombinat gume i obuće, Slavonski Brod, 1971.; Borovo - Pedeset godina rada, Borovo, 1981.; Ante Duić 'Dunja', 'Borovo: Od trnja do zvijezda I...', Vukovar, 2005.; prof. Danijel Rehak, Borovsko nebo čisto jesmo li te voljeli svi isto, Vukovar, 2007.; Neva Mihalić, Prijedlog uredjivanja povijesno-memorijalnoga mjesta "Krhotine Vukovara 1991.", p. 35.-37., Hrvatski tjednik, No. 576, October 7, 2015.

Note:
Content of this unofficial website can be freely taken with condition of providing link to the original page from where the article is taken.
---